KEF encourages the school community to take advantage of funding opportunities provided by eScrip and other community partner programs. To capture those benefits for KEF, families have only to sign up with one or more of the program partners before shopping in their normal manner (except eScrip which now requires no sign-up!).
eScrip
eScrip and its merchant partners have created a system that rewards customer loyalty by contributing a percentage of purchases to our school. You don't even need to sign up! Just click on the eScrip Mall logo below (or the "Shop with eScrip" link on the school homepage), and then select your desired online merchant from the eScrip site. You pay the same price but Kensington Hilltop Elementary automatically receives a donation for your purchase!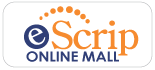 If you'd like to get a statement of your purchases and related donations, then you can register your grocery club card and debit/credit card(s) with eScrip using the steps below.
 Log onto eScrip and go to "sign-up"
 Designate Kensington Elementary School (ID#121964533) to receive contributions
 Register your grocery club cards and debit/credit card(s)
Please Remember
These are ways to make a difference with no additional purchases necessary.  The giving doesn't need to stop here.  Encourage your extended family and friends to support Kensington Hilltop Elementary School.  The sky's the limit on what we can collectively raise!